Mieszadła
300L homogenizator do produkcji mas kosmetycznych
300L homogenizator do produkcji mas kosmetycznych, przeznaczony do produkcji kremów do pielęgnacji twarzy, ciała, itd
The main functions of the Vacuum Emulsifying Mixer 300L are:
• Low speed mixing of liquid materials in the main pot.
• High speed homogenizing of liquid materials in the main pot.
• Creating vacuum pressure environment in the main pot to improve the homogenizing process.
• Creating vacuum conditions in the main pot to enable pumping of water/oil liquids from external pot.
• Heating and cooling the liquids in the main pot using controlled water heating in the jacket in pot perimeter.
The main elements of the system:
• 316L pot made from stainless steel
• Electrical Mixing system
• Electrical Homogenizer system
• Electrical heating for jacket water
• Water inlet for external layer
• Vacuum system using water ring pump (electrical pump using water inlet and waste)
• Hydraulic rise and decline of the pot lid
• Hydraulic tilt and reset of the main pot to pour the product to containers
• Pneumatic valve in pot bottom to release the product or waste water after cleaning
• Water rinsing of main pot
• Control panel
W przypadku zainteresowania prosimy o skontaktowanie się z nami
Tel: 42-688 39 70; 601 280 110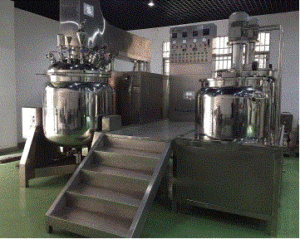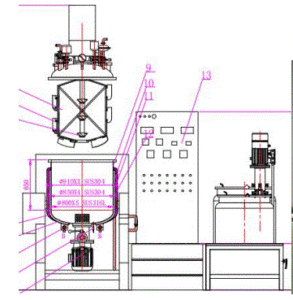 Nowe mieszadło z homogenizatorem 1000L
1000L mieszadło z homogenizatorem do produkcji mas kosmetycznych, przeznaczone do produkcji szamponów, płynów do kąpieli, żeli do kąpieli, itd
Mixer with double jacket for electric heating function, top mixing motor, bottom homogenzier for emulsifier, mixing/homogenizer speed adjustable
1. Mixer type: top mixing with scraper
2. Voltage: 380v 3-phase 50hz
3. Mixing: 5.5KW, speed: 0-63rpm
4. Homogenizer: 11kw, speed: 0-2880rpm
5. Electric heating: 6kw*4sets, can be controlled separately.
W przypadku zainteresowania prosimy o skontaktowanie się z nami
Tel: 42-688 39 70; 601 280 110